April 12, 2022
Ceyhan's Story: From mechanical engineer to thriving software engineer
Meet Ceyhan: Once a mechanical engineer, now found his calling as a Coyotiv software engineer/peer learner!
We all have a human need to be appreciated for our efforts, and so when you don't feel valued in the workplace, it makes you feel as though you don't belong. Working as a mechanical engineer, in a large, global company, Ceyhan felt disposable. But he and his partner Sinem, made a bold choice to change their lives and found a new home at Coyotiv.
Professional life as a mechanical engineer
Ceyhan's story takes him from Bulgaria to Bursa, Turkey, followed by an undergraduate education in mechanical engineering. During his studies, he pursues a part-time internship with a global company and rejoins the same company full-time after he graduates. Following that, he is offered a two-year overseas mission in Spain and subsequently accepts a permanent position there.
What prompted him to make a career change
Ceyhan will be disappointed and shocked to find out that such a large global company could fail its employees in this manner when the factory he works at in Spain decides to downsize when the pandemic hits. He felt as if he was just a number on the company's financial statement, an expendable asset. It was not easy for him to make the transition to a new career, having devoted many years to his field of expertise.
But all the hurdles he has encountered led him to look for a career that would allow him to work independently, from anywhere in the world, and feel valued. He wanted a career with endless possibilities for opportunities. Little did he know, the video he was about to watch was going to change his life forever.
Signing up for Coyotiv School of Software Engineering
As soon as he watched one of Armağan Amcalar's YouTube videos on Coyotiv and his experience as a software engineer in Germany, Ceyhan instantly knew that was the career he wanted to pursue. Feeling inspired, he got in contact with Coyotiv, and it was not long before he made his decision.
Software engineering attracted him because of the high demand for talented people both in Germany and Europe, as well as the wide variety of positions available. Quick-paced, high in demand, and adaptable software industry would also give one a sense of freedom and value that is certainly not found in big, inflexible, and cumbersome industries.
So once he finally made his decision he did not look into any other bootcamp or course. He did not know he would soon become an inspiration to others seeking career changes.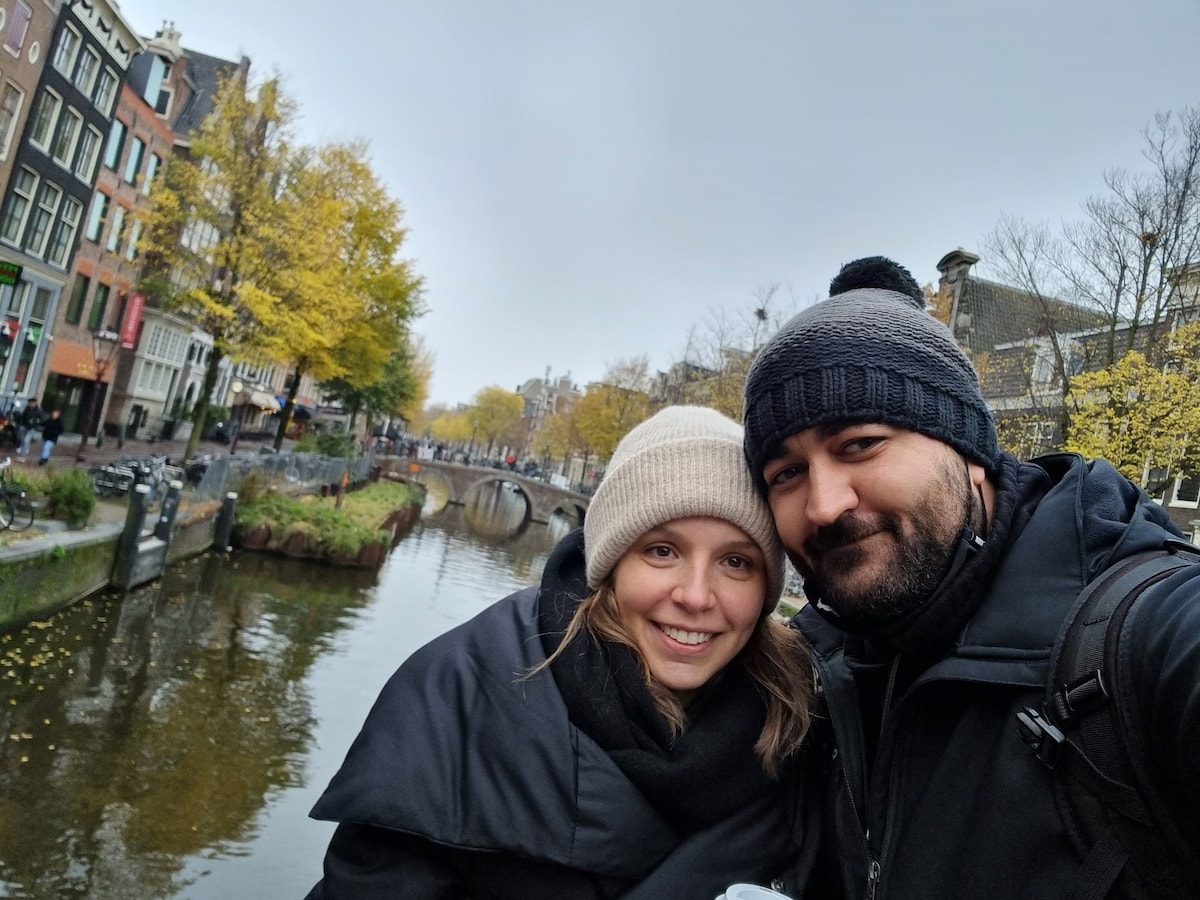 Two awesome software engineers = 1 power couple! 💘
Coyotiv's full-stack software engineering program was Ceyhan's first step in his career change journey, but he would not be alone in the family. His wife, Sinem, who worked in logistics, was so inspired by his progress and what he achieved in such a short time, she signed up for the next cohort. They both had no prior knowledge of software engineering. Sinem did an MBA after finishing studying in marketing and Ceyhan only knew specific and easy-to-use programs at his daily job.
Now they are both accomplished software engineers who are realizing their dreams!
Software engineering as Coyotiv student
Unlike his previous job, where he often felt lonely, he has never felt alone at Coyotiv. If he has a problem in the middle of the night, he knows for sure someone will be there to answer his questions. He believes this can only be possible if someone truly feels fulfillment in their job, and soon enough, he became one of those people himself!
Becoming a Software Engineer and a Peer Learner at Coyotiv
Even before graduation, he knew he wanted to be part of the Coyotiv team. When he realized how much support he still received as a full-time software engineer and a peer learner at Coyotiv, he knew once more that he made the right choice.
In addition to being an apprentice and a peer-learner, he is also a software engineer at Coyotiv. Now that he no longer counts down the hours until he can go home, he finds delight in solving challenging problems and enjoying working with a great team always supporting each other. Ceyhan thinks that working at Coyotiv provides so much satisfaction that he is always motivated to learn more.
He loves the fact that software engineering allows him to tackle new problems every day, and he feels like he is trying to solve a puzzle each time he works on one.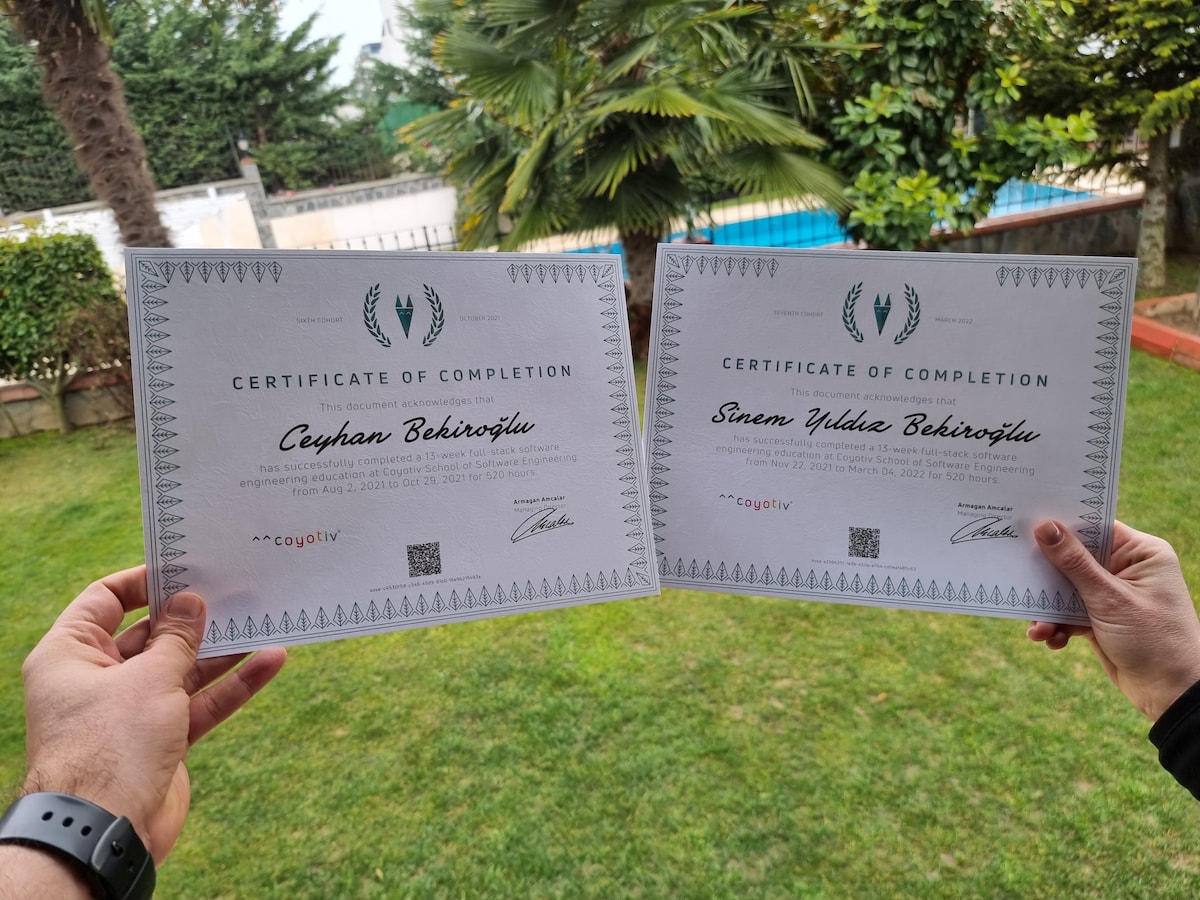 A step forward to a brighter future
Ceyhan loves understanding the logic behind engineering problems and transferring it to the next person, and also loves that he gets to acquire more about his profession during his peer learning work at the school.
There is a huge gap between what he used to do and what he now does as a software engineer. Software engineering makes you independent as you can do projects on your own, as well as with a team from anywhere in the world. And you can find and even create the tools you need to do your job.
Software engineering opens up a lot of space to shape the future.
Ready to kickstart your career in software engineering?
If you're ready to start your new journey in tech, we welcome you to Coyotiv and can't wait to have you on board. You can book a video call with one of our team members or just fill out the application form and we will get in touch with you. Keep in mind, one of our team members is always there to answer your questions through text in the live chat!