June 17, 2022
How to Complete the Self-Paced Course While Working Full-Time
Hi! This is İpek from Coyotiv's Storytelling (aka social media) team. Everyone at Coyotiv are not only encouraged but also required to complete the self-paced software engineering course over a year.
I would love to share my journey, and hopefully inspire you along the way. This should go without saying, I am still at the very beginning, so we will see how it works out together!
From my previous experience in learning things, I would say we have to clearly define two things first: your working style, and "why" power.
Define your working style
This is the first and the most challenging step in getting started your coding journey. During the day, you probably already have a lot on your plate, and you might be thinking "Where does completing a full software engineering course fit in?" in your crazy schedule. You are not alone.
Understanding how you learn and work will help you achieve your goal. As a Coyotiv member, I was encouraged to take the self-paced software engineering course by practically everyone in my team from the very beginning. It felt amazing to be in such an inspiring environment and have supportive people as my colleagues.
Taking the self-paced course was one of the many things that excited me about working here. How great it would be if I, a social media manager, were to complete this course and understand better what our students are going through! Yet it took me a long time even to log in to the platform we were using for the self-paced course. I kept thinking "I will start right after I do this, right after I have the most comfortable setting…" Life happens. Things go in unexpected ways. The only way I find helpful in starting is to acknowledge that whatever did not happen in the past, is in the past. There is no shame in starting over when you think you have failed.
Too many tabs open… Not just in your browser, but also in your head?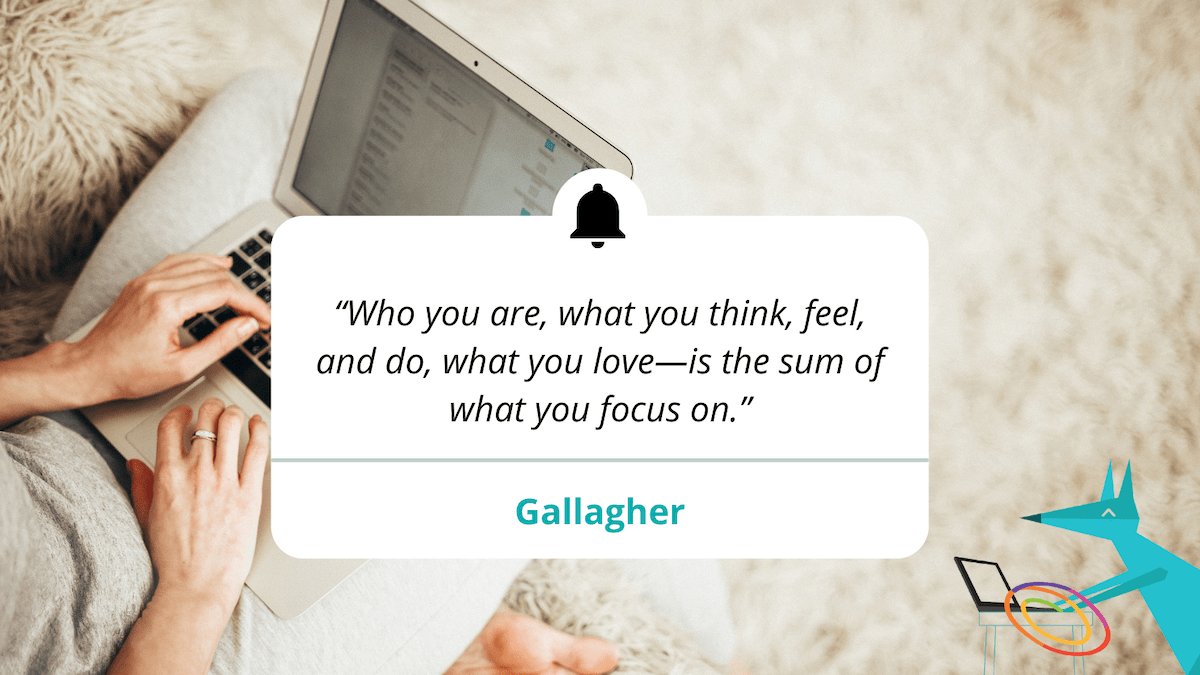 Distractions. Distractions everywhere! Notifications popping up, responsibilities in and out of work kicking in… With our attention span decreasing every day, focusing on something (like anything!) and gaining a new skill takes a lot of effort. That's why I started searching for ways to get organized and regain my focus.
A friend of mine suggested that I read Deep Work: Rules for Focused Success in a Distracted World. I will not go ahead and give you a summary of the book (remember, I'm still in the trial phase of my journey), but just tell you what I will be experimenting on in the upcoming weeks. The author suggests that we have limited willpower, and when we hop on from task to task, this willpower gets cut and is consumed faster. Willpower is like a muscle that can get tired, so we need to make sure to train it properly and on a regular basis.
In this book, he presents six different strategies for doing deep work and suggests that we also create our own style. For these next two weeks, I will combine the The Bimodal Philosophy of Deep Work Scheduling and The Journalistic Philosophy from the book. Some fancy words, right? The former method suggests that you divide your time into two. Leave one part to do "deep work" and the other to do everything else. At the times you are deep working, you must seek "intense and uninterrupted" concentration. However, he suggests that you do this at least for a whole day, and this definitely does not suit my schedule nor my learning process. Now, for the journalistic method, you should start the deep work whenever you find time available and focus immediately since deadlines are approaching quickly.
So, I have come up with a two week plan:
Revise your schedule/how a day is likely to go at a normal time.
Find 1 or 2 hour blockers for each day and add it to your schedule like you would add a meeting there. Shut down all notifications during that time. As a morning person, I am thinking of putting this blocker at an early time in the day.
For the days that unexpected things happen, use the journalistic method, where you just sit down and start working.
Make a realistic plan of how far you want to get in the self-paced course in these two weeks.
That's it! I am also thinking of putting a calendar on my desk (or just crossing off the days that I study at least for an hour). Seeing the progress I have made each day would motivate me to push forward. Because let's face it, learning a huge thing at your own pace takes a lot of self-discipline and determination. You will need to push harder some days, just like you would do for any other course or endeavour.
Define your "why" power
Why power, as much as your will power is important. If we have a clear purpose and goal in mind, then we can make decisions that are aligned with these intentions. This helps us stay focused and accomplish our desired results with greater ease. So, here you go! Why do you want to become a software engineer and finish this course? Perhaps you want to change your career, improve your engineering skills, or you have a project or two on your mind that you want to realize…
Let's say you are here to make a career change. Why? It could be the case that your current career is not satisfactory anymore, and you want to move on to a career that has broader opportunities, a stable and good salary, and flexibility. Determine your why power, and remember this does not have to be the last time you are answering this question. The reasons you have right now might evolve into something else, maybe even something more solid once you get a taste of what this field is like.
I am embarking on this journey for several reasons. As I mentioned from the beginning, all of our Coyotiv team members are encouraged to take the course regardless of their role here. I want to seize this incredible opportunity to the fullest. Another reason is that I want to understand what our students are learning during the course. That way, I can create valuable and informative content. However, the main reason I want to finish this course is different. I have always been fascinated by how whole systems are created through programming. I tried to learn a few programming languages without a plan and with no help before, but could not succeed, although it was really fun and challenging. Now, I want to practise properly and see how this whole process will shape my thinking and skills.
Set some ground rules
Poof, rules… Of course, these do not need to be strict and restrictive rules. You probably already have a lot of experience in working on something, and you recognize possible distractions. Another point to take into account is what is likely to demotivate you. My ground rules would be:
Avoid social media, WhatsApp, or any website that would distract you during your studying period.
If your day did not go in line with the plan, assess what caused this, and adjust your daily routine accordingly.
Search for your answers first. If you cannot solve something on your own, always ask for help.
With all of the other things we have discussed, just remember that flexibility is the key. It is incredibly easy to beat ourselves up over something that went wrong, or even others/other conditions. You must acknowledge that these are all part of the process. Know that it is okay to start over, and do not hesitate to ask for help from our teaching team at Coyotiv.