June 10, 2020
Type with Your Brain Signals
24-hour live coding: Type with your brain signals using JavaScript
One man, one Emotiv EPOC X headset, and 24 hours of live coding! The countdown has started for our legendary 'Typing with Brain Signals using Javascript' event! Coyotiv's founder Armağan Amcalar shows how to read brain signals with JavaScript in a personal Hackathon!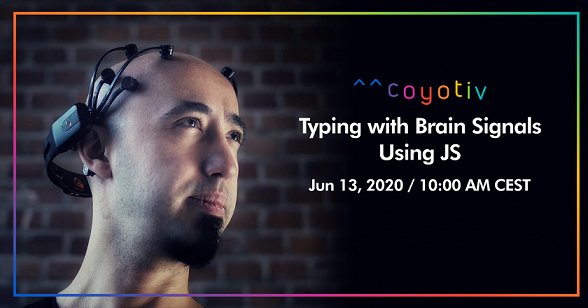 What if we told you could log your brain to the developer console and type with your brain signals? No, it's not a science-fiction movie. The future is already here!
This Saturday (Jun 13, 2020) our beloved Armağan Amcalar goes on a mission impossible to make a 24-hour live broadcast on YouTube and will implement his brain signals experiment with the new Emotiv EPOC X headset.
In our first event as Coyotiv, Armağan will demonstrate an open-source Brain-Computer Interface that is completely developed with JavaScript, from the ground up, using neural networks and signal processing. With a wireless EEG headset, Emotiv EPOC X, he will show how to read signals from the brain in JavaScript, and its implementation in Electron, Node.js and Vue.js.
📅 Jun 13, 2020
⏰ 10:00 AM
Set up your reminders and don't miss this one-of-a-kind stream: https://www.youtube.com/watch?v=d57cUThPPtU
HELLO. pic.twitter.com/I4SEjsHpZL

— Armağan Amcalar (@dashersw) September 17, 2017
Read more about this project here and the research behind it here.